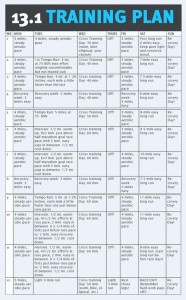 This programme is for beginner runners who are thinking of tackling Tough Guy. Although the course distance isn't a full half marathon, having a bit of extra fitness will help you overcome the cold and obstacles.
To get the most out of this programme, you should be able to run 5km in under 40 minutes and you may have completed the beginner 5km programme.
The training schedule in this programme is a regular four days per week. You will have the opportunity to try some of the training techniques that more experienced runners use, such as speed and tempo runs. These will increase your running performance and provide some variety in your training, which will help to keep you motivated.
Alternatively, you may choose to do all the runs in the programme at a steady pace. This will get you around the race comfortably. Just run for the length of time given in the programme.
Training Goals