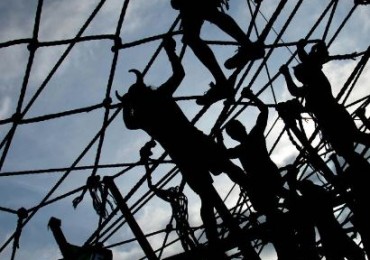 Greetings t'y'all,
JUNE 19th FATHER'S DAY
INVITE FROM YOUR OCR FATHER
You will agree that this New Sport/Activity of Obstacle Running has created a Mountain of issues regarding conformity.
I have been organising ORGANISERS since my historic meeting with Chris Brasher/John Disley in 1981 at the First London Marathon Mass Running Event. I have been a DAD to 8 of my own blood and FATHER to THOUSANDS for over 70 years.
In 1983 I called together all ORGANISERS to a meeting here to discuss Control and Management for benefits for all Organisers, safety and compliance for all Runners. Chris Brasher named me the 'Prickly conscience of the Race Organisers'. It is a tough job to correct people but if I had not followed that calling you would not be enjoying the spirit of OCR and I would not be enjoying writing to you.
Chris Brasher said "Avoid bureaucracy with massive paperwork rule books."  That proclamation is our nemesis, write our rules and compliance On the Back Of an Envelope.
I have reached an age where my Legend of creating Tough Guy® Obstacle Running gives me The Onerous position and pleasure of inviting you to join me on Father's Day June 19th. Camp over June 18th enjoy Entertainment Ghost Squad Band musicians, Fire Eating, and fun around the camp fire.
Sunday June 19th – 16 HOURS OF SUNSHINE for relaxation discussions to express your own opinion of where your event has a future to pay all of your bills of organising.  Anyone seeing themselves as figurehead of several event series needs to listen to the huge pitfalls.
Obstacle Runners are numbered in Britain in Thousands, to turn this into millions with enough entry fee payable to satisfy the costs of all organisers needs a very careful Business Plan which will accommodate and satisfy all demands.
You will learn that from 30 years of Tough Guy® happiness from small beginnings carefully monitored and controlled with a gathered philosophy of sharing Tough Guy® Obstacle Name is now desired in every Country in the World.
Mudder Will Dean and Spartan Joe DeSena have copied everything they own in Obstacle Running from Tough Guy®. They continue to view Tough Guy® website as their Bible. 'British Is Still Best' See attached from Costa Rica, how the world admires the originator.
BRITISHNESS is our PRIDE.  We should talk to get it together so that we are admired in our Control, sought by all of the World Nations. As in Historical British Leadership. You could benefit as I gather the dedicated enthusiasts who are willing to travel. Holidaying to visit with British Ingenuity, gaining friends and sharing costs.
What a wonderful future in the Sport Activity which you enjoy.
FUTURE SUGGESTIONS
OCRDUK – Obstacle Course Running Discipline Society
A number of Leading Event Brands are willing to co-operate, they have called me and rallied together to bring some sense to the confusion for Obstacle Runners.
Small Events with enthusiasm which are losing money will struggle to oblivion as more web graphic design creatives hitch up on a hopeful new wagon.
Proposal for Small OCR Events
OCRD will put together a Blueprint for Satellite OCR Training Camps with input cash from Government Sources.
Hundreds of small events could become Satellites in a Nationwide Group.  A signed agreement to join the mass database of OCRD will cost a small percentage of each income, benefits in all aspects will be highly rewarding.
We have been in talks with David Cameron since November 1st 2010 with our creative Military Style Training Groups for Young People, Disaffected and Lost Souls.  In these 5 years we have been passed to 7 Cabinet Ministers and Cabinet Office who requested we put together a Master Plan to take 500 Young People out of their Comfort Zone. (A brief History is attached).
Of course many bright ideas can emerge from bringing like minds together, Rob Foulkes Muddy Races, Pete Rees Mudstacle and LEINSTER OCRA UK are all setting up stalls for their own Personal Fiefdom.  Alan Moore – Muddy Duck, is the leader willing to share with a Governing Body Formation OCRD.
We hope that one day they all will acknowledge reading my writings of many years ago which has provided them with their inspirations: The Key word is  SHARING, there is plenty for everyone who is eager to be an Organiser, similarly History tells us of the Middle Ages Feudal System.  OCR should be free from Feudal Tendencies. That was how I made it, see my videos from 1989 www.youtube.com/toughguyhq
We are the 21st Century Intelligentsia!
TShirt Offer
I have a major supplier wo will provide you with:
A one colour printed Cotton Shirt for £1 (minimum quantity 500)
A one colour printed Technical Polyester T-shirts for £2 (minimum quantity 500)
You supply your design with 50% deposit – 50% payable on notice of delivery.
These are quality T-shirts –   I will send the direct details to all who agree to give their heart and soul to the future of OCRD, email mrmouse@toughguy.co.uk .
Free Universal Magazine
There are one or two Charlatan Cowboys, attempting to get you to commit large cash to advertise in a supposed Free Magazine. I have personally interviewed each of these cowboys, they have nothing but big dreams to offer. You can see my revealing analysis on my blog – www.blog.toughguy.co.uk
I can now reveal that I have been planning a Free to Runners Magazine since 2009, all seen factual on my Blog.
I am very close to bringing everyone together with a central communication website/Facebook. I can produce and distribute a superb news magazine to every runner in OCR plus to many other activity/sport/leisure lounge readers. It is a non-profit venture, the advertisers will pay happily to cover the cost of making the publication free to every goody bag at every event.
Where in this wonderful world can you find anyone who exemplifies the great word of Sharing MORE THAN Mr Mouse? The answer is God himself.
Yours Ever Smiling,
Mr Mouse.